Features of Design-a-Course
With Design-a-Course and Web-Based Training, your students can sit down at any computer with a browser, at any time, and take training courses. That's the beauty of WBT. No CDs, no installations, just point the browser to the URL and begin.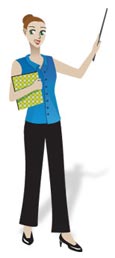 Unlimited free upgrades and updates for life No need to worry about purchasing upgrades. You have access to unlimited free upgrades with your subscription. No plugins required Students can take courses without any plug-ins.
Powerful, built-in learning management system (LMS) A powerful feature of Design-a-Course is its built-in student registration and student-tracking database. Simply access your account, via Design-a-Course's web account management interface, and you can add, change, or remove students. In addition, you choose what information you want to collect from them (i.e. employee number, department, phone number, etc)
.
1-click publishing Courses are published to your personalized and secure web URL with the click of a single button.
No programming or scripting to learn We've made Design-a-Course so simple to use that no special programming is necessary to develop your courses. Unique access levels Student, Professor, Administrator, and much more! With unique groups and user access, you have total control over your coursewares design, development, and execution. Four different types of questions with feedback Designers have an unlimited choice between Multiple Choice, True/False, Select All That Apply, or Fill-in-the-Blank questions. You also have the ability to provide unique feedback for correct and incorrect responses to questions.
Question weighting Each question can have its own weighting. This weighting will influence the students' final score.
Question randomization You have the option to group questions into pools and randomize their occurrence. This allows you to keep one student from seeing the exact same test as another student. Automated scoring and tracking Design-a-Course even grades the user's tests, stores the results, and tracks the progress of all your students. The assigned Professor can instantly monitor student progress, check course scores, view question averages, and much more using any Internet browser, anywhere in the world, and at anytime of the day! Results can also be exported to a standard .CSV format, which in turn can be imported into your current database or spreadsheet application.
Automatic bookmarking Bookmarking lets students quit the course at any time and allows them to return exactly where they exited the course. Automated spell checker Spell checker is built into the software.
Advanced design capabilities For the more advanced courseware developer, course pages can be designed and built in any HTML editor such as Dreamweaver™ or Hot Metal™, imported into the Design-a-Course Author, and easily uploaded for student access. The finished courses can be simplistic in design or can include motion graphics, Flash animations, sound, and video. It's limited only by your creativity!
Cut and Paste support Course developers can cut and paste from existing documentation and applications such Word™ or PowerPoint™ content. Multimedia support Use existing graphics, audio and video files.
User-defined glossary You can create your own glossary to assist your students while taking courses. Hot Spots Your courses can include "hot spots" and hyperlinks to access other parts of the Internet.